Chicago International Organ Academy (CIOA), a new premiere collaborative venture for training and nurturing organists, was recently inaugurated and is poised to grow the next generations of organists throughout Chicagoland, and well beyond.
The Academy has been conceived as a dynamic, exciting, educational initiative where students of all ages from around the world can turn, virtually or in person, for high-level, comprehensive, personalized training in all aspects of the organist's art.   
Highly refined and effective training in basic pedal and manual technique form the core of instruction at CIOA.  Beginning, intermediate, and highly advanced organists can benefit from the instruction offered through the Academy.  Furthermore, hymn playing and song accompaniment, organ registration, organ literature, organ construction and design, introductory improvisation, figured bass, music theory, master classes, field trips, national and international study adventures, as well as professionalism on the job in music programs, are also part of the curriculum. 
A special focus of CIOA is to cooperate with local houses of worship to train and give experience to young student organists as they develop the skills necessary to serve effectively in their own or other communities of faith, especially where organists are not otherwise employed. Students of the Academy will have an opportunity to put their newly acquired skills into action through short and long term internships as they progress through their programs of study, if desired, regardless of where in the world you are located. 
Based at First United Methodist Church of Chicago, in the historic Chicago Temple building, the Academy has been conceived by Phillip Kloeckner. He brings decades of acclaimed international performance, excellence in academic teaching and publications, and distinguished collaborations with musicians and vocalists from many genres to this new Academy. With musical roots at the Oberlin College Conservatory of Music and the Shepherd School of Music at Rice University in Houston, he established the Rockefeller Chapel Organ Studio at the University of Chicago in 2013. (

www.phillipkloeckner.net

)
His vision for CIOA includes offering effective musical, interpretive, and technical training in organ playing to organists of all levels of achievement and professional aspiration, as a fulfillment of their personal goals and aspirations. CIOA is also committed to assisting worship communities in maintaining access to the many benefits that organ music brings, to build new audiences for the organ as a concert instrument, and to expose ever-widening segments of humanity to the unique energies of this masterful instrument.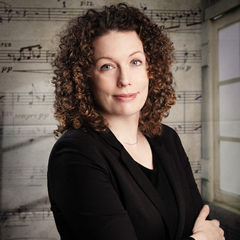 Tabitha Moldenhauer brings years of experience in organization, education, and music to CIOA. Having created, taught, and managed church and school music programs for all ages, she enthusiastically believes music education should be accessible to everyone and is excited to assist CIOA students in achieving their goals.
Tabitha is Music Director and Organist at Church of the Holy Family in Park Forest, IL. She also has a private studio of piano and organ students and is a sought after workshop organizer and speaker on the topic of training part time organists. To support and encourage music performance and participation in the greater Chicago area, she serves on the board of the Chicago Chapter of the American Guild of Organists and is the parent/board liaison of the Suburban Youth Symphony Orchestra. Tabitha can be reached at program@cioa.global.